I spent this summer as an intern for the Bay Club! Check out their website here.
They offered me the job in fall semester- before I even went to Australia so of course my answer was:
So when I came back from studying abroad, I had a few weeks at home before heading to the not-so-sunny-but-foggy-instead SAN FRANCISCO!!
There were 12 interns living in a house in San Francisco-shown below. It made for a really fun summer to live and work with other students who were also from Cornell's hotel school!
I spent the first half of my summer working at this property, Bay Club StoneTree.
The great thing about living in San Francisco was how close we were to great hiking spots, surf spots, Santa Cruz, Marin, Napa & Sonoma counties ((and also bubble tea cafes)).
The second half of my summer was spent working with the other interns on a big group project. Learn more about it here. In a nutshell, we created a survey and took the data from 2000 responses, working long hours on challenging tasks to create an amazing final presentation that made us all feel proud.
Early mornings typically went like this (especially living in a house of people who love to go to the gym before work):
Throughout the day: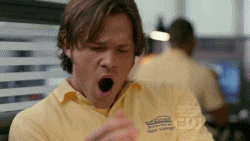 Got home from work and:
But in the end our presentation was an incredible success!
And we ended our summer jetskiing in Lake Tahoe!
Now I'm back at Cornell and I'm a …((gulp))…senior!