Last week, the German airline company Lufthansa cancelled more than 1,000 flights due to an ongoing pilot strike that marked the 13th of its kind in the past 18 months. Lufthansa's pilots have been fighting for better pay and pensions, and, more specifically, for their right to receive a pension even if they retire early, a right that the airline wishes to cut. On Tuesday alone, 84 of 170 long distance flights from or to Munich, Frankfurt, and Dusseldorf were cancelled. The strike continued into Wednesday, when many intercontinental, medium distance, and short distance flights were cancelled as well.
More than 140,000 passengers were affected by the strikes last week. These passengers are part of Lufthansa's global flight network, one which spans 80 nations and 258 airports. On average, there are 2,137 daily Lufthansa departures per day. As a result of last week's strikes, therefore, only 50% of Lufthansa's aircrafts departed. In a global network, a reduction of 50% of flights affects more than the passengers scheduled to travel on the 1,000 cancelled flights. Passengers on connecting flights at different airports around the world are just as affected as those who were scheduled to fly on the cancelled flights last week.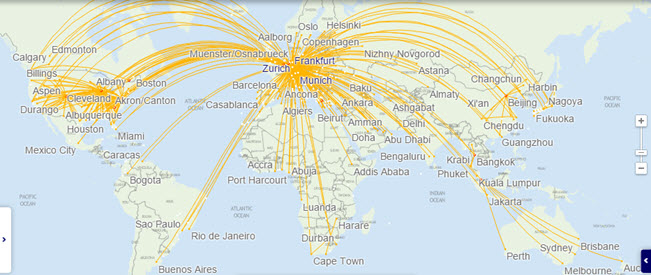 Pictured above: Lufthansa's flight network
Flight cancellations harm more than just the global travel network. Widespread effects are seen in the global economic network as well. Since 2014, Lufthansa's pilots' strikes have resulted in more than 300 million euros in losses for the company. However in this global network, Lufthansa's strikes affect many other airline providers as well. Imagine a passenger flying on Lufthansa from Frankfurt to New York and then switching to Delta Airlines to travel from New York to San Francisco. If the Frankfurt to New York flight is cancelled due to strikes, the passenger will not take the Delta flight from New York to San Francisco. Delta will therefore lose money on their New York to San Francisco flight. And that is only the result of one passenger on one flight. If everyone in the aircraft missed the New York to San Francisco flight due to strikes, Delta's losses would be even greater. And if 140,000 people missed connecting flights last week due to the strikes, many companies other than Lufthansa are currently making enormous losses! In short, the effects of one airline company's strike are extremely widespread and one strike can affect hundreds of thousands of people and can create losses reaching hundreds of millions of dollars.
SOURCES:
http://www.independent.co.uk/news/business/lufthansa-passengers-grounded-as-pilots-launch-two-day-strike-10491256.html#
http://www.usatoday.com/story/travel/flights/todayinthesky/2015/09/08/lufthansa-pilot-strike/71869126/
http://www.staralliance.com/en/about/airlines/lufthansa_airlines/#
http://www.stltoday.com/business/local/lufthansa-cancels-dozens-of-long-haul-flights-due-to-strike/article_2ab07d12-ac03-5fb3-9c1a-771b078a550c.html
Comments
Leave a Reply