Now postponed!
New Date: September 26- 30, 2021
Cornell University
Ithaca, NY
~~~~~~~~~~~~~~~~~~~~~~~~~~~~~~~~~~~~~~~~~~~~~~~~~~~~~~~~~~~~~~~~~~~~~~
4 Sessions
7-9:30 PM EDT (UTC-4)/8-10:30 AM JST
September 28-29 US/ September 29-30 Japan
October 5-6 US/ October 6-7 Japan
~~~~~~~~~~~~~~~~~~~~~~~~~~~~~~~~~~~~~~~~~~~~~~~~~~~~~~~~~~~~~~~~~~~~~~~
About this meeting: 
The Japan-US Seminar in Plant Pathology aims to encourage dialogue and collaboration among researchers of molecular plant-biotic interactions. The 12th Seminar will focus on the remodeling of the environment that occurs at the interface of plant-microbe interactions, and we invited a variety of dynamic speakers on this theme for the planned 2020 conference, now postponed to 2021. Additional early-career and student speakers will be selected from submitted poster abstracts. Scientific sessions will be interspersed with ample coffee breaks, meals, and excursions into the Ithaca area. We hope you will join us for this fun and stimulating small conference!
Significance of the meeting:
The Japan-US Scientific Seminars grew from a joint program initiated by US President John F. Kennedy and Japanese Prime Minister Hayato Ikeda to encourage scientific cooperation between the two countries in the postwar 1960s. The first Seminar, held in May 1966 in Gamagori, Japan, was organized by Drs. Ikuzo Uritani of Nagoya University and Chet Mirocha of the University of Minnesota. The Seminar has since been held in 4 or 5-year intervals in alternating countries, fostering many international partnerships in the field of molecular plant-biotic interactions. The first Seminar focused on the dynamic changes in the plant cytoplasm, cell wall, water status, and metabolism during plant infection, topics that will be revisited in the 12th Seminar.
The 2020 Online Early Career Showcase symposium:
The aim of this online symposium is two-fold: 1) to share some of the work that would have been presented at the in-person Japan-US Symposium, which was postponed due to COVID-19; and 2) to highlight top young researchers in the field with an international, interactive event.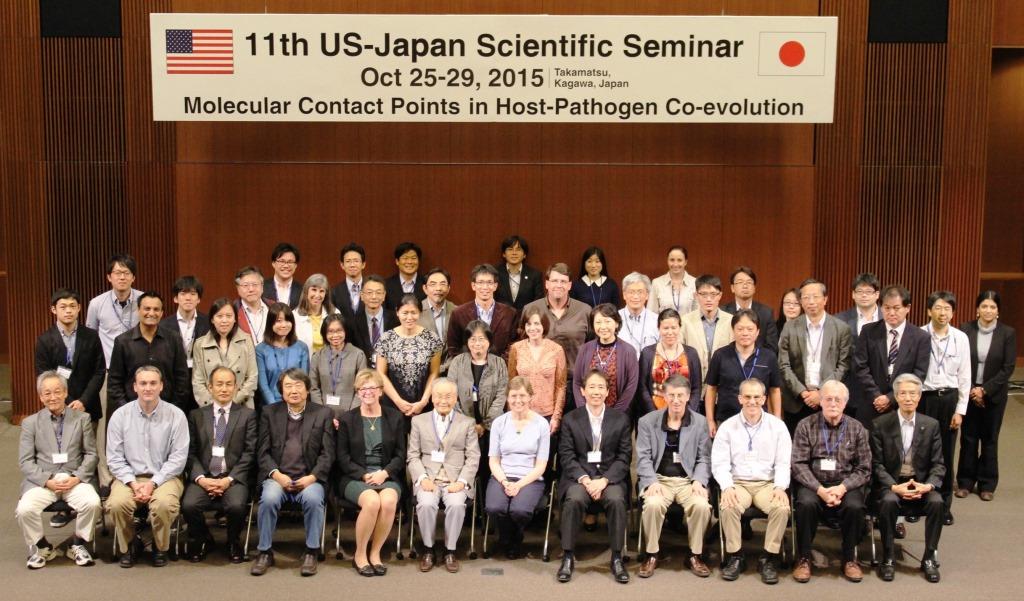 Group Photo of the 11th Japan-US Seminar held in Takamatsu, Japan, 2015
For Updates
Follow us on Twitter at @JapanUSPlant, or subscribe below to receive e-mail updates. There will be no spam, and you can unsubscribe at any time.
Please, insert a valid email.
Thank you, your email will be added to the mailing list once you click on the link in the confirmation email.
Spam protection has stopped this request. Please contact site owner for help.
This form is protected by reCAPTCHA and the Google Privacy Policy and Terms of Service apply.