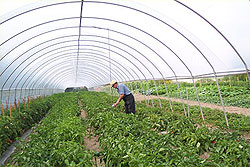 Lengthening the growing season in the June 19 Ithaca Journal extols the virtues of high tunnels.
The article profiles Howard Hoover, 49, and his family, who fabricate the tunnels on their farm in Milo, N.Y. in the winter months to augment their income from selling produce, and use the tunnels themselves to extend hit early markets in spring and extend their harvest in fall.
In the article, Cornell High Tunnel Team member Judson Reid, a vegetable specialist with Cornell Cooperative Extension in Yates and Seneca counties says that
… the movements for local food and sustainable practices are driving some purchases. High tunnels represent a way to extend the short local food season in upstate New York. Their cost – about $4,000 for the most common size – can be recovered in one or two growing seasons by a small producer.

"Since they don't use fossil fuel, they appeal to people's desire for sustainable production, versus a (heated) greenhouse, which generally uses fossil fuels."
See the Structure and equipment sources page at the Cornell High Tunnels website for a list of suppliers and contact information.