Hello all you new Cornell Students! 
The incoming class of 2019 is being called the most diverse in Cornell history. So yay for that! I remember how exciting it was getting undergraduate acceptances and anticipating my first day of college! I probably read every page of my undergraduate college, New College of Florida, website ten times before I even got to campus. I wanted to know all I could about the school and the life. Don't judge; being super prepared never hurt anyone! 😉
So, I thought it would be nice to do a post about things I wish I had known Freshman year. Now, Freshman year was a while ago for me, but all my years as a student have:
1. Talk to your roommate before you get to school. Getting to know a little about who you'll be spending most of your nights with early never hurt anyone. Also, plan who is bringing a microwave or carpet or curtains, things you may want, but definitely don't need two of.
2. Make friends with your RA. Your Resident Assistant will be in charge of your floor or building. They not enforce the rules, but are also your contact if you get locked out of your room or if you start having roommate problems. Staying on this persons good side will definitely help you in the long run.
3. Meet people as soon as you get to campus. You may want to spend most of your time getting your room decorated, but this is the best time to meet people on your floor, in clubs, at the cafeteria. There are tons of other new students receptive to making new friends, so this is the best time to be friendly.
4. Go to the different orientation events. They may seem "lame" at first, but they are great for meeting people and getting oriented with the campus and your resources. And Cornell is big and confusing…so take advantage of this now!
5. Make a roommate agreement. I went way too many years without making one of these. It's so easy to think that nothing will ever come between you and your new BFF/roommate, but getting all of your rules out on the table while you two are buddies is much easier than trying to get them to change after you guys have had a falling out… (Not that you necessarily will have a falling out, some first-year roommates end in forever friendships. Mine did!)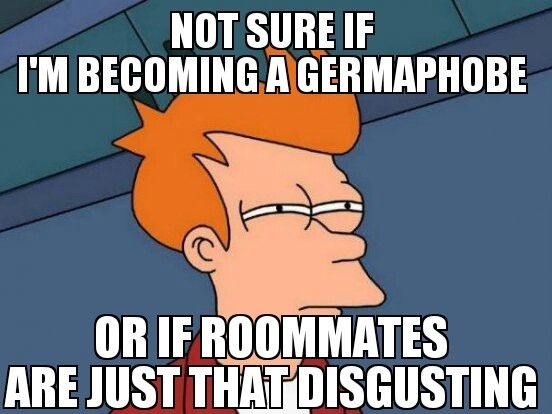 6. On the topic of roommate agreements, Frame your rules. If either one of you is going to want to live in a clean room, set rules about cleaning. Also, set rules about visitors, and rules about weekends, and out lights out times, and having these up on the wall for reference is helpful. This will make life much easier in the long run… trust me!
7. Bring a mini-fridge. You don't want to be totally tied to the cafeteria hours. There also may be days that you don't feel like trekking through the snow for dinner. So, have some food in your room.
8. Get an agenda. Either get a cute agenda or use your phone/computer, because unlike high school, your college schedule is extremely variable in a week. Some classes may be tri-weekly and some are just once a week. Also, your club meetings or group project meetings will sneak in too, so keep track with some good planning.
9. Get fit. Get into the rhythym of going to the gym early on in your college career and it will help you relieve stress when things start to get overwhelming. Also, appreciate that you will have gyms in walking distance. This really only happens when you are in college.
10. Make memories! Take lots of pictures. Things will invevitably get stressful over your college career. Don't be disheartened. Enjoy this first year, you'll make it through!