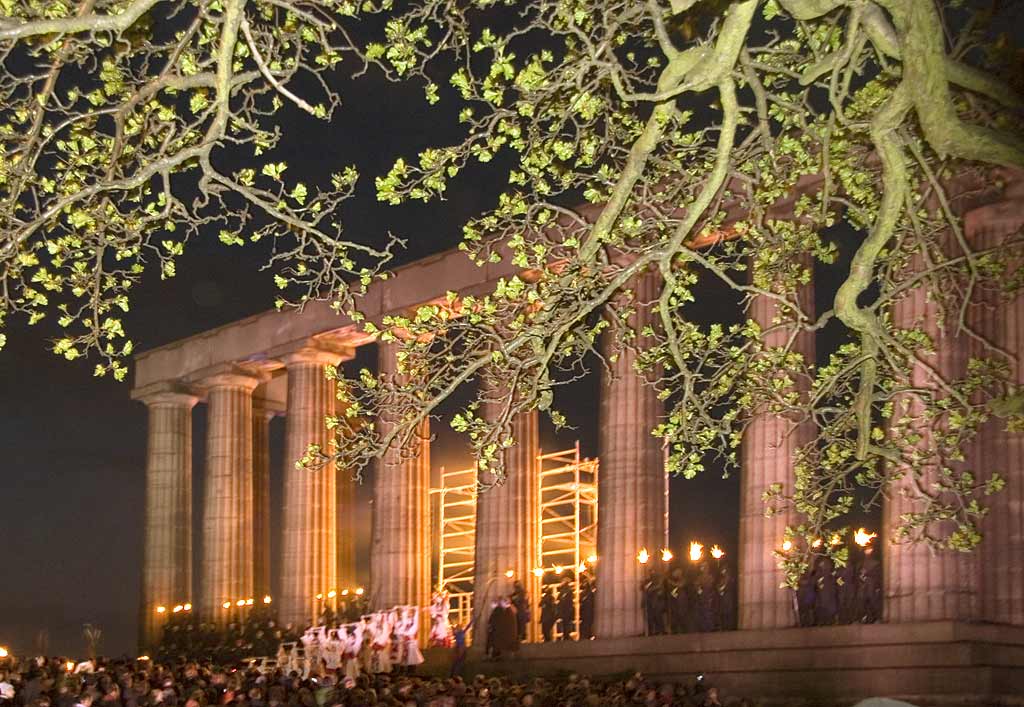 A lighted cityscape. A crumbling Greek temple. A pitch black night punctured with tiny pinpricks of lights. The scene could not be more perfect for the mysterious summer festival of Beltane.
I have to admit that I had absolutely no idea what I was getting myself into when I decided to make my way to one of the highest points in Edinburgh. It had been a slow week- everyone was restless from the holiday break and were attempting to put off revising for as long as possible. Any distraction was more than welcome. So, when one of my friends offered to buy me a ticket to "the Beltane Festival", I jumped at it. However, after my cabin fever subsided a little bit, I asked the simple question of "what exactly IS the Beltane festival?". Surprisingly, it seemed that no one had a concrete answer. One friend thought it was "fireworks", another was sure that it was "a parade on Calton Hill", and even a third thought it was a sort of concert. After some perusing, I found the official ad for the event, describing it as a 'fire festival', whatever that meant. The ad was excruciatingly limited in its description, and it left the reader to confusingly gaze at the half painted, bush-wearing men holding torches in the front picture in order to extract some meaning at all. Perhaps because its elusiveness, the festival became the most anticipated event of the evening.

For those of you who have read the Da Vinci Code, I want you to picture the iconic scene in the basement of the curator's house. Remember the white and black masks, the gyrating, and the symbolic nakedness? Export that onto a Scottish landscape, outside in the open air, with 12000 people watching and you have Beltane. Well, kind of. As I later discovered, the Beltane festival is a pagan ritual symbolizing the welcoming of summer, celebrated on May 1st. Mind you, the two ceremonies have more than their fair share of differences, however I can now completely empathize with the breathless panic that Sophie Neveu felt at first seeing a ritual like this. I couldn't believe what was happening in front of my eyes. Did I just walk into an orgy?

The crowd was vibrating with energy; they were attracted like moths to a fire, literally, in their attempts to push their way closer to the stage. I was being rocked back and forth by an undercurrent of anxiousness; no one was quite sure what was going to happen on stage. Slowly, a line of grim reaper-like figures appeared out of the black darkness and began passing a flame from torch to torch. Then, out of thin air, a woman clad in white set the entire scene ablaze, lighting a 20 foot high symbolic shrubs on fire. This was the entrance of the May Queen. She was closely followed by four other regal maids-in-waiting clad in white who humbly waded through the crowd. At this point, the crowd was silent and still, as if put in a trance by these angelic figures. However, the loud screams and banging from the rest of the processors snapped everyone back to this fantastical reality. What we saw next was a sensory overload: there were painted people with masks of animals, half naked red men and women with devil tails, and black and gold drummers who kept the atmosphere as mysterious as possible with their suspenseful beats. This train moved form platform to platform on a spiritual journey that I did not understand. I was one of many who kept popping my face through holes in the crowd and craning my neck just to see all the dancing that was going on.

What I saw was even more confusing. A Blue Man was protectively holding back the May Queen while a Green Man was seductively dancing around her. Then, the Green Man fell dramatically backwards as if dead, and was lifted up into the air by the maids in waiting, with the whole action looking like a pseudo-resurrection scene. At the end of this dance, the Green Man finished his dance and kissed the May Queen, setting the crowd wild and the fire dancers alight. The Red Men and Women circled the stage like they were stalking prey, juggling fire with sensual pleasure and entertaining the crowd with their folly in order to dethrone the new couple. However, this never happened, as far as I saw. The whole thing lasted until the wee hours of the morning with long bouts of storytelling and drumming.

When I tried to explain the night's events to my family and friends, they were flabbergasted. They couldn't believe that A.) pagan rituals were still being performed today B.) that I would ever be interested in a ritual like this C.) that I managed to get home in one piece. If you look at the history, these rituals are not uncommon, and many of them have just been renamed into the more prevalent religions. While I don't know exactly how everything fits together, I can be sure that this is something I will never experience again in my life. Moreover, it is something that has reminded how old and mysterious the city of Edinburgh really is, under all of its touristy layers.
3 Responses to "The Beltane Fire Festival"
kg288 Says:


Hey! I'm another CUAbroad student in Durham for the year, and I am studying right now for my Robin Hood final exam tomorrow which strangely enough covers the May Games! The pagan rituals were actually really insane in medieval times and used to include rituals slaughtering and debauchery in the forests, etc. There's more about it in 'The Games of Robin Hood' by John Matthews! I'm strangely excited that you got to see this in person…

May 26th, 2011 at 2:38 pm
Uptown Charlotte Dentist Says:


Very cool!! What an awesome experience, one you'll never forget…great opportunity.

June 7th, 2011 at 6:06 pm
Gabrielle Says:


Hi, Beltane ritual is very old and is celebrated across the world by pagans. It is the coming together of the Horned God and Goddess as the land is starting to ripen. It is very intense and highly charged. Being a pagan myself the experience as you have experienced is amazing.

Blessings

October 25th, 2012 at 10:54 pm
Leave a Reply