A decade ago on one boring Holy Thursday evening, my mom dropped off an 11-year old Emily at her grandma's house. I can tell you that it was not one of my greatest moments- I was in a peach of a mood and throwing a tween fit because "moms always seem to ruin the world". I loved my Nanny, but the last thing I wanted to do was be cooped up in her musty house on my first day off of school because my mom wouldn't leave me home alone. To add insult to injury, I had to go to MASS, too. It wasn't even Sunday! I was already subjected to a dreadfully long school service before vacation started, the punishment for going to Catholic school my entire life. So, you can imagine my contempt for this further subjection. However, as every good story goes, the joke was on me.
This day became that one ritual that my grandma and I shared just between the two of us. Okay, okay… food might have been involved, but I have since moved past satiating my appetite to relishing the time we got to spend together. Let me explain.
In Scranton, there is a tradition that happens only on Holy Thursday night. After the mass of foot washing and parading around, each celebrant is encouraged to church hop. Kind of like a pub crawl or bar tour, but with churches. (Do not take that as a blasphemous or sacrilegious statement, but there had to be some fun way to get people to go to mass during the week!) So, my Nanny, Aunt Mona, and Uncle Mike pile back into the car and drive off to as many nearby churches as we can hit. Each church we visit is silent, still smoking with excess incense swirling to the ceiling, and low-lit in a mystifying way; after all, it is the time of the Pascal mystery. We kneel, say a few prayers, and reflect. On what? Usually Lent, or the day, or what is to come for the rest of the weekend. To an easily-distracted eleven-year old girl, this was fun for a while, but slowly elevated to torture.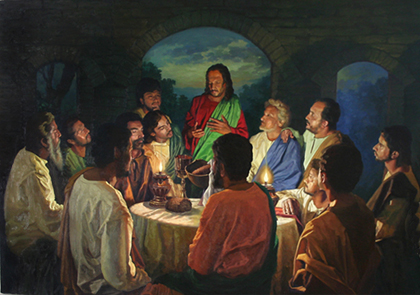 Seeing the different churches was cool and interesting, but there was only so much time I could sit still and be quiet. However, there was a huge redeeming quality in this expedition: bread and wine. Or, for me, grape juice. Too much Catholic punning? Well, this is for real. On the way out of each church, a basket of bread and a pitcher of wine are placed on a table near the door, so that we can literally take part in the Last Supper (or, in my case, stuff my face). Perhaps because of this, or the idea that Mass can be interactive, I grew to love this tradition. Yes, I eventually grew out of going solely for the food and appreciated the time with my grandma. But, the fact that my Nanny was in it for the food too, and maybe a few prayers, was the best feeling in the world.
This is the bad part about being abroad: missing out on important events at home. Maybe it is just my ever-present thought that I have a limited number of Holy Thursdays left with my Nanny or the fact that I am missing so much incredible food, but this has been my first big bout of homesickness in the past four months. I have always been close with the fam; yes, we facebook-stalk each others photos more than calling on the phone, but holidays with them are the biggest highlights of my year. With all the marriages and babies going on, getting everyone in the same place at the same time is nearly impossible these days. So, it is a huge con on my abroad list.
—
Yet, at the same time, I needed this opportunity to create, or recreate, my own rituals. Mass in Scotland is… well, different; they sit at odd times & kneel at others, teasing out the Americans in the bunch who are left standing like idiots. This is just another example of being pushed out of my comfort zone. But, making the most of this holiday in another country is a big step to growing up. Barf, I know. But, maybe it's not as bad as I first thought it was going to be; I just have be a little bit better with change. Oh, the irony: how the cycle seems to repeat itself. If only it was with my Nan.
Leave a Reply