BODY AND ART IN MOTION // COCO FUSCO
The political happenings in Cuba over the past century have sparked rapid and international reactions, in large part due to the technological advances over the past century have allowed for social media and new media to broadcast messages of social disillusionment and protest to global audiences with the press of a button. Critically acclaimed multimedia artist and scholar Coco Fusco, an ethnic Cuban raised in New York City, has participated in this Cuban political discourse through means of new media and performance art. In her scholarly talk on Friday as a part of the Graduate Art Symposium, "Body and Art in Motion," she addressed this phenomenon in terms of the contemporary artists to whom she has looked for research and influence.
The unifying thread between the artists and pieces Fusco mentioned — including Yoani Sanchez, Carlos Martiel, Angel Delgado — is an underlying thematic focus and near obsession with the human body and its relationship to the governing body. Most of the artists Fusco referenced were, for this reason, performance artists who engaged in self-mutilating or shocking bodily acts, in some ways asserting their dominant control over their own bodies and in some ways reflecting the body's tortured submission to dictatorship and communism.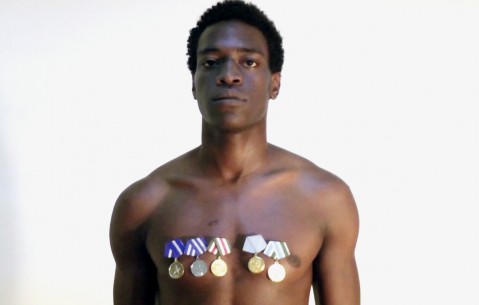 Still from "Hijo Prodigo" by Carlos Martiel
One interesting point of Fusco's talk that intrigued me was her reference to a few Cuban nationals that went on hunger strike, such as Guillermo Fariñas and Orlando Zapata Tamayo, particularly because she referred to these pieces as "performance art." Not that I disagree with the performance and  documentation of the act to be art, but I personally regard such occurrences on a different, more damaging extent — it begs a question of morality when life and safety are deliberately and drastically endangered for the purpose of art making. On the other hand, the act in itself remains a way for the artist to present commentary on the nature of art making as a sacrificial practice, to which one devotes more than simply praxis, but also a core element of their psyche.
Besides these pieces that were referenced, Fusco touched on a number of important points that outlined the nature of art in a climate of political unrest and dictatorship, such as the concept of new martyrdom and active persecution of artists as "parasites" or on account of their "social dangerousness." Ultimately, one of the most important messages I took from Fusco's lecture was that the uprising of art in response to government dictatorship is perennial, and not coincidental —  the fact that art can respond to voraciously and so immediately to injustice and intolerance speaks to its potential and importance in social progress and contemporary politics.